Fashion, Beauties, and Trends are always changing every time i check on worldwide. So fast and unstoppable. And... the thing that makes me super excited is this new model of shoes called
Flatform!
At the beginning I didn't feel like it's something new in shoes world. I thought that it's a regular flatform which is really hurting my legs. But then I noticed that this isn't Platform, but Flatform with F!!!. I googled it. And obviously, i Loved Loved it! especially for those who don't feel comfortable wearing heels, like ME! thank god, we can still look gorgeous and tall with this kinda cute yet edgy flatform. :D
i didn't find many of flatform here in Indonesia but some stores were already keep in trend! i know u guys are just craving for the pics well here's some of the gorgeous flatforms i've ever seen......
Casual Look
Edgy Look
Party Rockin' Look
Gold Flatforms By Unique**

2.019.815 IDR

($220)

- topshop.com
Buttttt my fave is..... these oxford flatform shoes!!!
Jeffrey Campbell Ad Long Rose Platform Oxfords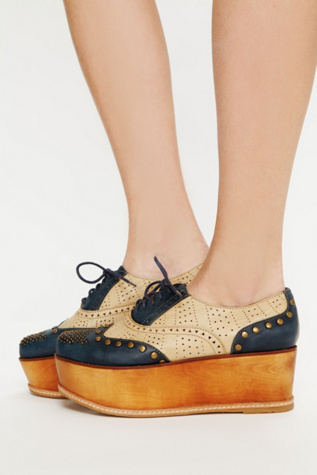 Jeffrey Campbell Ness Stacked Wingtip

1.817.830 IDR

($198)

- freepeople.com
So what do u guys think about Flatform? which one do u choose? i feel your excitements here :D hahaha
These are just thrillin' me to get more savings ^^